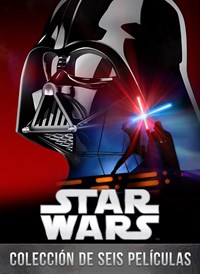 Descripción
Vivid la acción y las aventuras de Star Wars, la saga de películas más icónica. Ahora por primera vez en digital. Uníos a los Caballeros Jedi, guardianes de la paz y la justicia en la Antigua República, que intentan derrotar al Imperio y liberar la galaxia de las fuerzas oscuras. Empezad con Anakin Skywalker y su paso al lado oscuro, al transformarse de aprendiz de Jedi en el cruel Darth Vader. Seguid con Luke Skywalker, la princesa Leia y  Han Solo liderando la Alianza Rebelde en su lucha para devolver la libertad a la galaxia. La espera ha terminado. ¡Star Wars Digital Movie Collection ha llegado!
Contenido adicional
Conversations: Doug Chiang Looks Back
Conversations: Sounds In Space
Conversations: The Star Wars That Almost Was
Conversaciones: Creando un universo
Conversations: The Lost Interviews
Conversations: The Effects
Discoveries From Inside: Models & Miniatures
Discoveries From Inside: Costumes Revealed
Discoveries From Inside: Hologram & Bloopers
Descubrimientos desde dentro: Armas y el primer sable de luz
Discoveries From Inside: Matte Paintings Unveiled
Discoveries From Inside: The Sounds of Ben Burtt
Star Wars: The Phantom Menace Deleted Scenes
El Comienzo: largometraje documental
La carrera de vainas: versión para cine
Star Wars: Attack of the Clones Deleted Scenes
"From Puppets To Pixels: Digital Characters In Episode II" Feature-Length Documentary
State of the Art: The Previsualization of Episode II Documentary
Documental "Las películas no se echan, se escapan."
Episodio II: Montaje detallado de los efectos visuales (Rollo para el Siggraph)
Star Wars: Revenge of the Sith Deleted Scenes
"Menos de un minuto: así se hizo el Episodio III": largometraje documental
ILM Episodio III - Rollo para el Siggraph
Tráiler de lanzamiento de Star Wars
Star Wars: The Empire Strikes Back Deleted Scenes
A Conversation with the Masters (2010)
Dennis Muren: How Walkers Walk
George Lucas on Editing The Empire Strikes Back 1979
George Lucas On The Force: 2010
Star Wars: Return of the Jedi Deleted Scenes
Classic Creatures: Return of the Jedi
Star Wars: Return of the Jedi Trailers & TV Spots