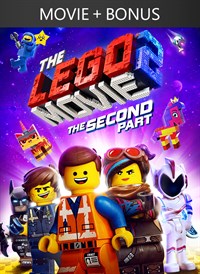 Disponible en
Xbox One
HoloLens
PC
Dispositivo móvil
Xbox 360
Descripción
The heroes of Bricksburg are back in an epic action-packed adventure to save their beloved city! It's been five years since everything was awesome and the citizens are now facing a huge new threat: LEGO DUPLO® invaders from outer space, wrecking everything faster than it can be rebuilt. The battle to defeat the invaders and restore harmony to the LEGO universe will take Emmet (Chris Pratt), Lucy (Elizabeth Banks), Batman (Will Arnett) and their new friends to faraway, unexplored worlds, including a strange galaxy where everything is a musical. It will test their courage, creativity and Master Building skills, and may just reveal how special they really are.
Contenido adicional
Everything Is Awesome Sing-Along
Commentary by Director Mike Mitchell, Writers/Producers Phil Lord and Christopher Miller and Animation Director Trisha Gum
They Come in Pieces: Assembling The LEGO® Movie 2
Outtakes and Deleted Scenes
Super Cool (Official Lyric Version)
Promotional Materials: In 2019 Be Whatever You Wanna Be
Promotional Materials: Me and My Minifig
Promotional Materials: Please Silence Your Cell Phones
Promotional Materials: LEGO® Sets in Action
Promotional Materials: LEGO® Designers
Emmet's Holiday Party: A LEGO® Movie Short
Información adicional
Estudio de filmación
Warner Bros.
Guionistas
Phil Lord
Christopher Miller
Matthew Fogel
Tamaño
6 GB (1080p HD)
3.76 GB (720p HD)
3.01 GB (SD)