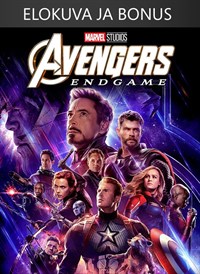 Saatavilla seuraaville:
Xbox One
HoloLens
tietokone
Mobiililaite
Xbox 360
Kuvaus
Avengers-saagan neljäs osa vetää kaikki 22 toisiinsa kytkeytyvää Marvel-elokuvaa yhteen ja huipentaa koko eeppisen matkan. Maailman mahtavimmat sankarit ymmärtävät vihdoin, miten hauras meidän todellisuutemme on—ja millaisia uhrauksia on tehtävä sen puolustamiseksi—tässä tarinassa, joka kertoo ystävyydestä, yhteistyöstä ja erimielisyyksien unohtamisesta ylivoimaiselta tuntuvan tehtävän edessä.
Bonussisältö
Play Movie With Commentary
Setting the Tone: Casting Robert Downey Jr.
A Man Out of Time: Creating Captain America
Black Widow: Whatever It Takes
The Russo Brothers: Journey To Endgame
Steve and Peggy: One Last Dance
Lisätietoja
Ohjaajat
Anthony Russo
Joe Russo
Tekstitykset
English (tekstitys)
Suomi
Tyylilajit
Toiminta/Seikkailu
Scifi/Fantasia
Käsikirjoittajat
Christopher Markus
Stephen McFeely
Koko
10,97 Gt (1080p HD)
7,17 Gt (720p HD)
5,9 Gt (SD)