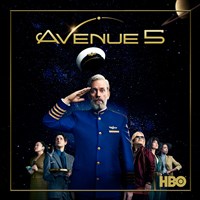 Beskrivelse
Set 40 years in the future when travelling the solar system is a booming business, the series starring Hugh Laurie follows life on board Avenue 5, a mash-up of a cruise liner and an interplanetary rocket ship packed with luxury amenities.
Episoder
2. And Then He's Gonna Shoot Off...
4. Wait a Minute, Then Who Was That on the Ladder?
5. He's Only There to Stop His Skeleton From Falling Over
7. ARE YOU A SPIDER, MATT?
8. This Is Physically Hurting Me
9. Eight Arms But No Hands
Tilleggsinformasjon
Undertekster
English (teksting)
Norsk Bokmål
Varighet
9 episoder (4 t 15 min)