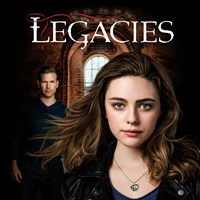 Beskrivelse
The heroes and villains of The Vampire Diaries and The Originals left a legacy of love and family in their wake, which continues in LEGACIES, a drama about the next generation of supernatural beings. Will these young witches, vampires and werewolves become the heroes they want to be — or the villains they were born to be?
Episoder
1. This is the Part Where You Run
2. Some People Just Want To Watch The World Burn
3. We're Being Punked, Pedro
7. Death Keeps Knocking On My Door
8. Maybe I Should Start From The End
9. What Was Hope Doing in Your Dreams?
10. There's A World Where Your Dreams Come True
11. We're Gonna Need a Spotlight
12. There's A Mummy On Main Street
13. The Boy Who Still Has A Lot of Good To Do
14. Let's Just Finish the Dance
15. I'll Tell You a Story
16. There's Always a Loophole
Tilleggsinformasjon
Undertekster
English (teksting)
Norsk Bokmål
Varighet
16 episoder (11 t 13 min)