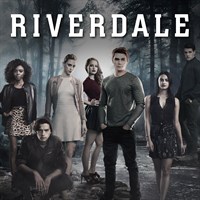 Beskrivelse
Things aren't always what you expect in Riverdale. Based on the characters from Archie Comics, Riverdale is a bold drama with a subversive take on a surreal, small-town life. As a new school year begins, the town of Riverdale is reeling from the tragic death of high school golden boy Jason Blossom — and nothing feels the same.
Episoder
1. Chapter Fourteen: "A Kiss Before Dying"
2. Chapter Fifteen: "Nighthawks"
3. Chapter Sixteen: "The Watcher in the Woods"
4. Chapter Seventeen: "The Town That Dreaded Sundown"
5. Chapter Eighteen: When a Stranger Calls
6. Chapter Nineteen: "Death Proof"
7. Chapter Twenty: "Tales from the Darkside"
8. Chapter Twenty-One: "House of the Devil"
9. Chapter Twenty-Two: "Silent Night, Deadly Night"
10. Chapter Twenty-Three: "The Blackboard Jungle
11. Chapter Twenty-Four: The Wrestler
12. Chapter Twenty-Five: "The Wicked and the Divine"
13. Chapter Twenty-Six: "The Tell-Tale Heart"
14. Chapter Twenty-Seven: The Hills Have Eyes
15. Chapter Twenty-Eight: "There Will Be Blood"
16. Chapter Twenty-Nine: "Primary Colors"
17. Chapter Thirty: "The Noose Tightens"
18. Chapter Thirty-One: A Night to Remember
19. Chapter Thirty-Two: "Prisoners"
20. Chapter Thirty-Three: "Shadow of a Doubt"
21. Chapter Thirty-Four: "Judgment Night"
22. Chapter Thirty-Five: "Brave New World"
Tilleggsinformasjon
Undertekster
English (teksting)
Norsk Bokmål
Varighet
22 episoder (15 t 29 min)