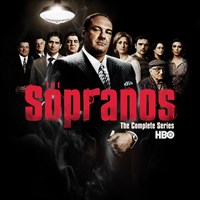 Description
James Gandolfini stars in this acclaimed series as Tony Soprano, a husband and mob boss whose professional and private strains often land him in the office of his therapist. The ensemble cast includes Lorraine Bracco as his doctor, Edie Falco as his long-suffering wife, Michael Imperioli as his hot-headed nephew and Dominic Chianese as his uncle.
Episodes
3. Denial, Anger, Acceptance
8. The Legend of Tennessee Moltisanti
11. Nobody Knows Anything
13. I Dream of Jeannie Cusamano
14. Guy Walks into a Psychiatrist's Office
22. From Where to Eternity
25. The Knight in White Satin Armor
27. Mr. Ruggerio's Neighborhood
30. Employee of the Month
35. The Telltale Moozadell
36. To Save Us All from Satan's Power
40. For All Debts Public and Private
46. Watching Too Much Television
47. Mergers and Acquisitions
49. The Strong, Silent Type
56. All Happy Families...
57. Irregular Around the Margins
58. Sentimental Education
61. Unidentified Black Males
69. The Fleshy Part of the Thigh
70. Mr. & Mrs. John Sacrimoni Request...
Additional information
Duration
86 episodes (3 days 6 h 6 min)