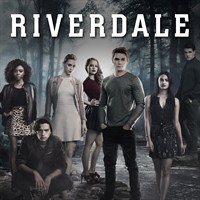 Kuvaus
Based on the characters from Archie Comics, Riverdale returns with its subversive take on small-town life. Determined to protect the sanctity of his town in the wake of his father's shooting, season two of Riverdale finds Archie (KJ Apa) seeking vengeance. As a civil war brews between the Northside and the Southside, loyalties will be divided. Betty (Lili Reinhart) and Jughead's (Cole Sprouse) relationship enters fragile territory when Jughead decides to live on the Southside, and Betty becomes plagued by the news of her long lost brother. Veronica (Camila Mendes) will find her life upended by her father Hiram's (Mark Consuelos) arrival given that it's their first reunion since his arrest, and Archie's rivalry with Reggie (Charles Melton) will grow. Things aren't always what you'd expect in Riverdale, and that's especially true as Archie tries to uncover the mystery of his father's attack.
Jaksot
1. Chapter Fourteen: "A Kiss Before Dying"
2. Chapter Fifteen: "Nighthawks"
3. Chapter Sixteen: "The Watcher in the Woods"
4. Chapter Seventeen: "The Town That Dreaded Sundown"
5. Chapter Eighteen: When a Stranger Calls
6. Chapter Nineteen: "Death Proof"
7. Chapter Twenty: "Tales from the Darkside"
8. Chapter Twenty-One: "House of the Devil"
9. Chapter Twenty-Two: "Silent Night, Deadly Night"
10. Chapter Twenty-Three: "The Blackboard Jungle
11. Chapter Twenty-Four: The Wrestler
12. Chapter Twenty-Five: "The Wicked and the Divine"
13. Chapter Twenty-Six: "The Tell-Tale Heart"
14. Chapter Twenty-Seven: The Hills Have Eyes
15. Chapter Twenty-Eight: "There Will Be Blood"
16. Chapter Twenty-Nine: "Primary Colors"
17. Chapter Thirty: "The Noose Tightens"
18. Chapter Thirty-One: A Night to Remember
19. Chapter Thirty-Two: "Prisoners"
20. Chapter Thirty-Three: "Shadow of a Doubt"
21. Chapter Thirty-Four: "Judgment Night"
22. Chapter Thirty-Five: "Brave New World"
Lisätietoja
Tekstitykset
English (tekstitys)
Suomi
Kesto
22 jaksoa (15 t 29 min)