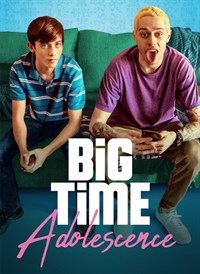 Description
16-year-old Mo (Griffin Gluck) idolises his best friend Zeke (Pete Davidson). He's funny, he's cool, he's worldly -- the only problem is Zeke's the 23-year-old ex-boyfriend of Mo's older sister. Although Zeke genuinely cares about Mo, things start to go awry as he teaches non-traditional life lessons in drinking, partying, and dating, while Mo's well-meaning dad (Jon Cryer) tries to step in and take back the reins of his son's upbringing. When Mo and Zeke hatch a plot to sell drugs to Mo's peers at high school, the limits of their friendship are quickly tested. Working from his own sharp script, director Jason Orley has created an all-too-real look at what it's like to be a teenager today. Supported by a strong cast, including Colson Baker (aka "Machine Gun Kelly"), Sydney Sweeney and Emily Arlook, the result is a fresh coming-of-age tale that's still familiar in all the right ways.
Additional information
Studio
Big Time Adolescence LLC.
Size
5.12 GB (1080p HD)
3.21 GB (720p HD)
2.57 GB (SD)