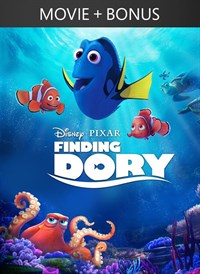 Available on
Xbox One
HoloLens
PC
Mobile device
Xbox 360
Description
Disney•Pixar welcomes back to the big screen everyone's favorite forgetful blue tang Dory, who's living happily in the reef with Nemo and Marlin. When Dory suddenly remembers that she has a family out there who may be looking for her, the trio take off on a life-changing adventure across the ocean to California's Marine Life Institute. In an effort to find her parents, Dory enlists the help of Hank, a cantankerous octopus; Bailey, a beluga whale who's convinced his biological sonar skills are on the fritz; and Destiny, a nearsighted whale shark. Navigating the complex inner workings of the MLI, Dory and her friends discover the magic within their flaws, friendships and family.
Bonus content
In-Home Exclusive: Marine Life Interviews
Hidden Secrets of Finding Dory
Deleted Scene "Tank Gang"
Finding Nemo as Told by Emoji
The Octopus That Nearly Broke Pixar
What Were We Talking About?
Skating & Sketching with Jason Deamer
"Little Tension in Clown Town"
Sleep Swimming - United States Trailer
Additional information
Directors
Andrew Stanton
Angus MacLane
Studio
Walt Disney Pictures
Writers
Andrew Stanton
Victoria Strouse
Size
5.63 GB (1080p HD)
2.61 GB (720p HD)
1.97 GB (SD)