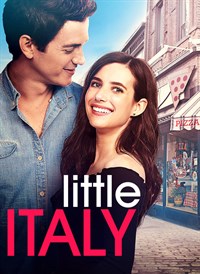 Available on
Xbox One
HoloLens
PC
Mobile device
Xbox 360
Description
From the Director of Miss Congeniality and How To Lose A Guy In 10 Days comes Little Italy, a fantastically fun, feel-good romantic comedy starring Emma Roberts and Hayden Christensen. Nikki (Emma Roberts – We're The Millers) is a talented, rising-star chef working in London. When she returns home to her family's pizza shop in Little Italy, she rekindles a romance with her childhood friend, Leo (Hayden Christensen – Star Wars), but there's one key problem: he's the son of her family's mortal rival in the pizza business! Whilst their families are at war, they keep their relationship under wraps, but little do they know that their mothers are secret best friends and their grandparents are hiding their own love affair! Directed by Donald Petrie, and featuring a standout cast including Alyssa Milano (Charmed, Insatiable), Andrea Martin (My Big Fat Greek Wedding) and Jane Seymour (Live and Let Die, Wedding Crashers), Little Italy is an unmissable slice of passion and pizza!
Additional information
Studio
Pizza Lovers Productions Ltd.
Writers
Steve Galluccio
Vinay Virmani
Size
5.92 GB (1080p HD)
3.13 GB (720p HD)
1.75 GB (SD)