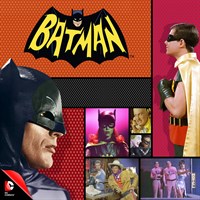 Description
Swing into Batman's third and final season where the Dynamic Duo has become a newly formed Terrific Trio. Turning chaos into calm, Batman, Robin and Batgirl (Yvonne Craig) try to keep Gotham safe by stopping the city's foulest and most felonious! With rogue wrongdoers like the sly Siren (Joan Collins), lethal Louie The Lilac (Milton Berle) and unethical Egghead (Vincent Price) running rampant, Batman, Batgirl and the Boy Wonder have their superhero hands full. Special guest villains like Berle, Collins and Eartha Kitt, (as Catwoman) light up the screen in pristine splendor like never before in the final season of this television classic!
Episodes
1. Enter Batgirl, Exit Penguin
2. Ring Around The Riddler
5. A Horse Of Another Color
6. The Unkindest Tut Of All
9. How to Hatch a Dinosaur
10. Surf's Up! Joker's Under!
11. The Londinium Larcenies
14. Catwoman's Dressed To Kill
16. The Funny Feline Felonies
17. The Joke's on Catwoman
18. Louie's Lethal Lilac Time
19. Nora Clavicle and the Ladies' Crime Club
20. Penguin's Clean Sweep
22. The Great Train Robbery
23. I'll Be A Mummy's Uncle
24. The Joker's Flying Saucer
25. The Entrancing Dr. Cassandra
26. Minerva, Mayhem And Millionaires
Additional information
Genres
Action/Adventure
Comedy
Duration
26 episodes (10 h 58 min)