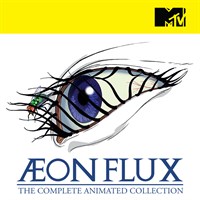 Available on
Xbox One
HoloLens
PC
Mobile device
Xbox 360
Description
Leather-bound and lethal, Aeon Flux – secret agent, saboteur – engages in a never-ending battle of wills with her nemesis/love, Trevor Goodchild. And what she may lack in morals and warmth, she more than makes up for with cat-like reflexes and ammunition. This director's cut of the groundbreaking MTV series is a mind-blowing combination of killer comic-book style animation, complex plots and themes, and action-driven narrative. The 3-disc set includes ten digitally remastered episodes, and the original MTV shorts. Aeon Flux doesn't skate the edge, she is the edge. And she will prevail, even if it kills her. Over and over again.
Episodes
2. War, Gravity, Leisure, Mirror, Tide
3. Utopia or Deuteranopia?
5. A Last Time for Everything
Additional information
Duration
12 episodes (4 h 25 min)