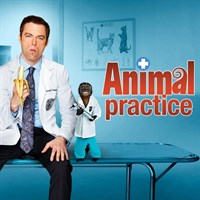 Available on
Xbox One
HoloLens
PC
Mobile device
Xbox 360
Description
Meet Dr. George Coleman (Justin Kirk, "Weeds"), a top-dog New York veterinarian. With an unorthodox style of operating, George's success comes from his undeniable gift with animals of all kinds. That is, all but the human kind. Dorothy Crane (JoAnna Garcia, "Reba") once held the key to George's heart, but today she also holds the key to the family business as she takes over Crane Animal Hospital. Not only is she George's new boss, but her romantic history with him and her lack of experience with animals is seriously cramping his style. Needless to say, George is determined not to make any changes in his (animal) kingdom - which includes poker games with a resident monkey. This is the wild life.
Episodes
2. Little Miss Can't Be Wrong
5. Who's Afraid of Virgina Coleman?
6. The Two George Colemans
Additional information
Duration
9 episodes (3 h 13 min)