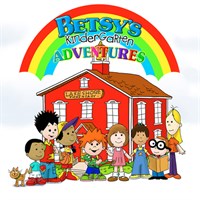 Available on
Xbox One
HoloLens
PC
Mobile device
Xbox 360
Description
Told from the perspective of 5-year old Betsy, Betsy's Kindergarten Adventures is designed to ease a child's transition from the home setting to a school environment by generating interest and excitement about the kindergarten experience in young viewers. Nationally aired on PBS Kids, Betsy's Kindergarten Adventures was voted one of TV Guide's "Must See" shows and in 2010 and 2011; Betsy's Kindergarten Adventures was awarded with a prestigious Parent Choice Award for TV Series. Developed for ages 2-6, Betsy's Kindergarten Adventures series also presents academic lessons to the audience. Each show is comprised of two activities drawn from the kindergarten experience, a behavioral or basic moral and an educational component. The viewer is shown a practical application of the lesson, while being entertained by the adventures of the story. Betsy combines endearing quality entertainment, with true function as it addresses a want in the market for programming that parents can feel confident in allowing their children to watch, while teachers can use the academic based curriculum.
Episodes
1. How It All Began / Lost and Found
2. The Farm Yard Field Trip / Betsy's Green Thumb
3. Boots, Boots, Boots / Team Player
4. Camping Out / The Tooth Chart
5. The Spy Who Taught Me / Show & Tell
6. Betsy Buys a Vowel / Follow Those Directions
7. Borrowed Time / Happy Earth Day
8. Frisky Business / Yesterday, Today and Tomorrow
9. Tickets Please / Have You Got The Time?
10. Growing, Growing, Gone / The Treasure of Sierra Betsy
11. Introducing The Post Office / A Berry Sore Stomach
12. Lyrtle The Turtle / The Greatest Gingerbread Man Mystery
13. Molly's First Bike Ride / An Awful Frightening Lightning
14. Newton The New Kid / A Colorful Encounter
15. A Whole Lotta Air / The Fire Department
16. Responsibilties / Rules Of The Road
17. To Tree or Not To Tree / Something Fishy
18. Police Department / Visit From The Doctor
19. Homework Rules / Bread And Butterflies
20. All Washed Up / Space Rangers
21. Manners Please / Mystery At Lakeshore Farms
22. Big and Little / Computer Fun
23. Making Instruments / Dinosaur Dynasty
24. Treasure Hunt / Betsy In Charge
Additional information
Networks
Polka Dot Productions
Duration
24 episodes (11 h 38 min)