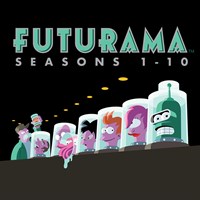 Original price was $49.99, current price $34.99
Original price was $49.99, current price $34.99
Description
Half-hour animated series about a pizza delivery man named Fry who is accidentally cryogenically frozen in 1999 and wakes up 1000 years later to a brave new world--that in some ways hasn't progressed much beyond the 20th century.
Episodes
4. Love's Labours Lost in Space
8. A Big Piece of Garbage
13. Fry and the Slurm Factory
14. I Second That Emotion
15. Brannigan, Begin Again
18. Why Must I Be a Crustacean in Love?
19. Put Your Head On My Shoulder
20. The Lesser of Two Evils
22. A Bicyclops Built for Two
23. How Hermes Requisitioned His Groove Back
27. The Problem with Popplers
29. Anthology of Interest I
34. Amazon Women in the Mood
36. The Day the Earth Stood Stupid
37. That's Lobstertainment!
38. The Birdbot of Ice-Catraz
39. The Luck of the Fryrish
40. The Cyber House Rules
41. Insane in the Mainframe
43. Time Keeps On Slipping
45. Roswell That Ends Well
47. Anthology of Interest, Part II
50. Where the Buggalo Roam
51. A Pharoah to Remember
56. Where No Fan Has Gone Before
59. The Route of All Evil
61. Kif Gets Knocked Up a Notch
63. Teenage Mutant Leela's Hurdles
66. The Farnsworth Parabox
67. Three Hundred Big Boys
71. Bender Should Not Be Allowed On TV
72. The Devil's Hands Are Idle Playthings
74. The Beast with a Billion Backs
76. Into the Wild Green Yonder
79. Attack of the Killer App
83. The Late Philip J. Fry
86. The Prisoner of Benda
87. Lrrreconcilable Ndndifferences
88. The Mutants Are Revolting
92. Ghost in the Machines
94. The Silence of the Clamps
96. All the Presidents' Heads