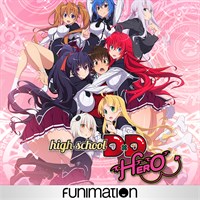 Available on
Xbox One
HoloLens
PC
Mobile device
Xbox 360
Description
A war between heaven and hell is raging on Earth, and hormones are raging in Issei's pants. Enter curvy Rias, a devilish class leader.
Episodes
1. Holiness Behind the Gym
2. That's Right, Let's Go to Kyoto
3. School Trip, an Abrupt Attack
5. Showdown! Gremory Family vs. Hero Faction in Kyoto
6. My Potential Released!
7. The School Trip is in Pandemonium
8. We are Preparing for the School Festival!
9. A Girl's Heart is Complicated
10. The Deciding Battle of the Strongest Youth, Begins!
11. As a Family Member of Rias Gremory
13. Lion Heart of the School Festival
Additional information
Duration
13 episodes (5 h 10 min)