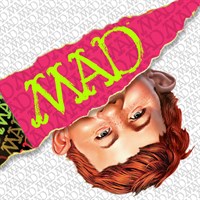 Available on
Xbox One
HoloLens
PC
Mobile device
Xbox 360
Description
From Warner Bros. Animation and inspired by DC Comics' iconic MAD magazine, MAD is an animated sketch comedy utilizing a twisted mix of humor and animation styles in order to lampoon movies, TV shows, games and more. Alfred E. Neuman, Spy vs. Spy and other classic MAD icons are on board to help skewer the viewer in this all-new series.
Episodes
1. Linkong/ Rainbow Dash and Bernstein
2. Pokemonsters, Inc./ Bane and Kate
3. Wreck-It Gandalf/ Big Bird Theory
4. Les The Miz/ The Lex Factor
6. G.I. E.I. Joe/ Dog with a Captain's Log
7. "S" Cape from Planet Earth/ The X-Mentalist
8. Po-blivion/ Umbrellamentary
9. Jaws the Great and Powerful/ Off their Spockers
10. Jacks the Giant Slayers/ The Most Beautiful Voice
11. The Great Batsby/ Big Time Gold Rush
12. First White House Down/ McDuck Dynasty
13. After Bert/Downtown Shaggy
14. Lone Rango/ Doctor Whose Line Is It Anyway
15. Iron Bland 3/ Monsters Community
16. Star Blecch into Dumbness/ Stark Tank
17. The Flash and The Furious/ Saved By Adele
18. Lukewarm Bodies/ Does Someone Have to GOa?
19. Pacific Ring/ Horton Hears a Whodunnit
20. World War ZZZZ/ Shazam and Cat
21. Doraline/ Monster Mashville
22. MAD's 100th Episode Special
23. The Dullverine/Under the Dumb
24. Still Hungry Games/Agents of S.M.U.R.F.
25. Alfred's Game/We Are X-Men
Additional information
Duration
25 episodes (4 h 56 min)