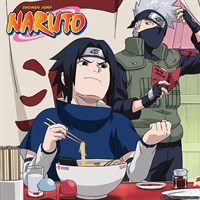 Original price was $39.99, current price $19.99
Original price was $39.99, current price $19.99
Description
The Village Hidden in the Leaves is home to the stealthiest ninja in the land. But twelve years earlier, a fearsome Nine-tailed Fox terrorized the village before it was subdued and its spirit sealed within the body of a baby boy--Naruto Uzumaki!
Episodes
2. Squad Mutiny: Everything Falls Apart!
3. Full Throttle Power! Choji, Ablaze!
4. Good-bye Old Friend! I'll Always Believe in You!
6. 360 Degrees of Vision: The Byakugan's Blind Spot!
7. Losing is Not an Option!
8. The Vessel Arrives Too Late
9. Miscalculation: A New Enemy Appears!
10. Roar and Howl! The Ultimate Tag-Team!
11. To Each His Own Battle
12. Fakeout: Shikamaru's Comeback!
13. The Leaf's Handsome Devil!
15. The Sand Shinobi: Allies of the Leaf
16. Showdown: Gaara vs. Kimimaro!
17. Vengeful Strike! The Bracken Dance!
19. Brothers: Distance Among the Uchiha
20. Father and Son, the Broken Crest
21. The Secrets of the Mangekyo Sharingan!
25. The Promise That Could Not Be Kept
26. Deep Cover?! A Super S-Rank Mission
27. A Town of Outlaws! The Shadow of the Fuma Clan
Additional information
Duration
27 episodes (10 h 34 min)