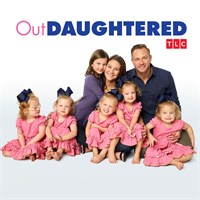 Available on
Xbox One
HoloLens
PC
Mobile device
Xbox 360
Description
40 bottles a day, 420 diapers a week and feedings every three hours became the new normal for Danielle and Adam Busby when they welcomed home the only all-female set of quintuplets in the country. OutDaughtered follows Danielle, Adam and their adorable 4-year-old daughter Blayke as they adjust to their new normal.
Episodes
3. The Quints Get Schooled
4. New House, New Problems
5. The Nightmare Before Quintmas
6. Lights, Camera, Quints!
Additional information
Age rating
Genres
Family/Children
Reality TV
Duration
6 episodes (4 h 15 min)