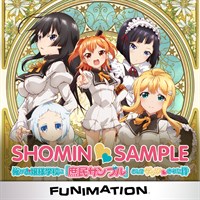 Description
Kimito Kagurazaka is extraordinarily average. That is, until one day he's abducted by a mysterious organization and forced to enroll in a super secret, super elite academy for the richest, classiest, elitest of the elite young ladies.
Episodes
2. Reiko Is Who We Wish To Be Like
3. It Was Like the Garden of Eden
4. The Tea Party Incident
7. The Tsun-Pure In Her Element
8. Aika-sama Has a Lot of Friends
9. Kagurazaka-sama is Here
10. I've Been Curious About This For a While, But What is Gets?
11. Is This Not the Sky That Kimito-sama Was Looking At?
12. Inexperienced Though I Am, Please Accept Me Forever
Additional information
Duration
12 episodes (4 h 45 min)