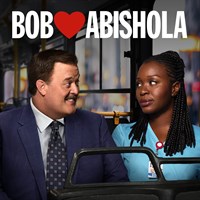 Description
BOB ABISHOLA is a love story about a middle-aged businessman who falls for his Nigerian cardiac nurse and sets his sights on winning her over. Bob runs his family's highly competitive sock business and is the breadwinner for his family –– including mother Dottie, sister Christina, & younger brother Douglas. When the stress of the job lands him in the hospital, Bob meets Abishola, his kind, no-nonsense Nigerian nurse. At first, there's a tremendous gulf between them. Now, all Bob needs to do is convince her to give him a chance – which will take some doing since they couldn't be more different. After coming to America to find a better life for her and her son, Dele, Abishola lives in a small apartment with her super-protective relatives, Auntie Ola and Uncle Tunde. Undaunted by Abishola's lack of initial interest or the difference between them, Bob is determined to win the woman's heart that makes his own skip a beat.
Episodes
2. Nigerians Don't Do Useless Things
3. A Bird May Love A Fish
4. Square Hamburger, Round Buns
7. Tough Like a Laundromat Washing Machine
9. We Were Beggars, Now We Are Choosers
10. Ice Cream For Breakfast
13. The Canadians of Africa
16. Where's Your Other Wives, Tunde?
19. Angry, Happy, Same Face
100. Bob Hearts Abishola S1: Trailer
101. Bob Hearts Abishola: On the Set
Additional information
Duration
22 episodes (6 h 43 min)