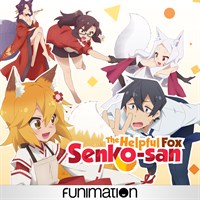 Description
Sometimes the cure to a hard day's work is the tender love and care of...a fox girl?! Salaryman Nakano's stressful life is suddenly intruded upon by the fox, Senko-san, who is eager to help him heal his exhaustion.
Episodes
1. I'm going to pamper him to his heart's content!
3. As long as you're happy
4. Why must you work on a day off!?
5. I've got a tail, too, you know?
6. You just want to fluff more
7. You smell like another fox
8. I'll make you forget all about it
9. Is this less embarrassing for you?
10. It's Nice to Let Your Inner Child Out Now and Then, Isn't It?
11. It's Going to Be a Rough Night
Additional information
Networks
Crunchyroll, LLC
Age rating
Genres
Animation
Anime
Comedy
Duration
12 episodes (4 h 46 min)