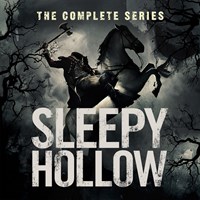 Description
SLEEPY HOLLOW returns for a fourth season full of supernatural creatures, mysterious events and the search for the truth about the lives of the Witnesses, as a resurrected Ichabod Crane (Tom Mison) joins forces with modern-day allies to save the world from supernatural forces and unprecedented evil.
Episodes
3. For the Triumph of Evil...
4. The Lesser Key of Solomon
12. The Indispensable Man/Bad Blood
16. Go Where I Send Thee...
18. And the Abyss Gazes Back
35. Dead Men Tell No Tales
36. This Red Lady from Caribee
40. Incident at Stone Manor
52. The People vs. Ichabod Crane
Additional information
Duration
61 episodes (1 day 23 h 19 min)