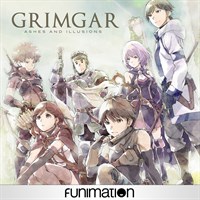 Description
When Haruhiro awakens, he's in the dark surrounded by people like himself who have no memory of where they came from or how they got there. As the darkness fades, a fantastic new world called "Grimgar" appears before them and the adventure begins.
Episodes
1. "Whisper, Chant, Prayer, Awaken"
2. "Long Day of the Trainee Volunteer Soldier"
3. "Are Goblin Pouches Filled with Our Dreams?"
4. "Sky Dancing with Ash"
5. "Crying Doesn't Mean You're Weak. Enduring Doesn't Mean You're Strong."
7. "They Were Called Goblin Slayers"
8. "In My Memories with You"
10. "I'm Not Fit to Be a Leader"
11. "Between Life and Death"
12. "See You Tomorrow... "
Additional information
Networks
Crunchyroll, LLC
Duration
12 episodes (4 h 45 min)