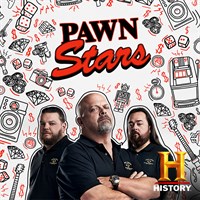 Description
"Pawn Stars" follows three generations of the Harrison family as they assess the value of items coming in and out of their Gold & Silver Pawn Shop in Las Vegas, from the commonplace to the truly historic.
Episodes
1. Close Encounters of the Pawn Kind
2. Rick's Gone with the Wind
5. Mo' Monet, Mo' Problems
6. Raiders of the Lost Pawn
13. Rick's Surreal Supper
14. That's the Way the Cookie Crumbles
15. To Infinity and Be-pawned!
16. Pawn Stars and Movie Stars
18. Once A Pawn A Time in Hollywood
21. Wanted: Pawned or Alive
23. Rick Vs. The Globe Of Death
Additional information
Duration
25 episodes (17 h 2 min)