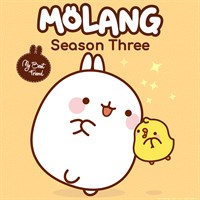 Description
Molang is an affectionate and humorous perspective on the relationship between an eccentric, joyful and enthusiastic rabbit, and a shy, discreet and emotional little chick.
Episodes
1. The instructions/The flying carpet/Top model/The rock band
2. The delivery men/Firefighters!/Santa/The box
3. The mule/The magic lamp/The yeti/At the fair
4. The rescue/The detectives/The bodyguards/The alien
5. The whale/The spider/Watch out/Super Molang
6. The frog/Electro Molang/The knight/The easter eggs
7. The Space Friends/The Choir/The Dragon/Shuuuuush!
8. The Ghost/A New Friend/Mini Molang/The Haunted House
9. The condor/The broom/Actor Molang/Skate supreme
10. Mega Piu Piu/The storm/The turtle/The birdling
11. The cap/Elves/Into the wild/The panda
12. The sorcerer's apprentices/The sand statue/The pullover/The dancers
13. The husky/The call of the forest/The competition/The long trip
Additional information
Networks
Première TV Distribution
Age rating
Genres
Animation
Family/Children
Duration
13 episodes (3 h 11 min)