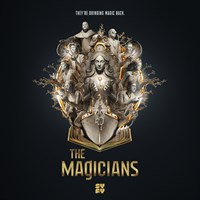 Description
Based on the best-selling novels by Lev Grossman, "The Magicians" centers on Quentin Coldwater and his 20-something friends as they discover their magical abilities and unwittingly unleash a dark force that threatens to destroy the magical world as they know it.
Episodes
1. The Tales of the Seven Keys
8. Six Short Stories About Magic
12. The Fillorian Candidate
13. Will You Play with Me?
Extra: The Magicians Season 3 Official Trailer
Additional information
Age rating
Genres
Drama
Sci-Fi/Fantasy
Duration
13 episodes (9 h 22 min)