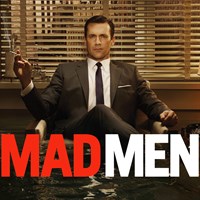 Description
Returning for its third season, the two-time Golden Globe®-winning series for Best TV Drama bursts with one scandalous surprise after another. Jon Hamm and the rest of the award-winning ensemble continue to captivate us as they contend with a world on the brink. Welcome to "Mad Men" - a shocking portrait of a time that was anything but innocent. Nothing is as sexy. Nothing is as provocative. Nothing is as it seems. "Mad Men": Where the Truth Lies.
Episodes
6. Guy Walks into an Advertising Agency
11. The Gypsy and the Hobo
13. Shut the Door. Have a Seat.
Additional information
Duration
13 episodes (10 h 19 min)