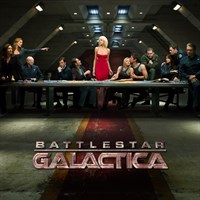 Description
Battlestar is Back! The wait is finally over for Battlestar Galactica fans. Syfy's Emmy and Peabody Award-winning original series returns for its fourth original season. As the season opens, the last remnants of humanity continue their search for a new home, the thin line that separates them from the rapidly evolving Cylons is being redrawn. Galactica's crew, rocked by Starbuck's sudden and mysterious return from the dead – and her claims that she has been to Earth and can lead them there – attempts to make sense of the inexplicable. Meanwhile, four members of the fleet are still reeling from the revelation that they are Cylons and have been all along. Battlestar Galactica is the gripping saga of humanity's last remnants and their struggle to find a new home while fleeing from their deadly Cylon enemies. Redefining the space opera with its gritty realism, Galactica's intensity, issues-driven topicality, and command performances have garnered it numerous awards, including an Emmy and the prestigious George Foster Peabody Award. The show was recognized by the American Film Institute (AFI) as one of the most outstanding programs of the year two years running. The series is from Universal Media Studios and is executive produced by Ronald D. Moore and David Eick. The outstanding ensemble cast is led by Edward James Olmos, Mary McDonnell, Katee Sackhoff, Jamie Bamber, James Callis, Tricia Helfer and Grace Park.
Episodes
1. He That Believeth in Me
5. The Road Less Traveled
7. Guess What's Coming to Dinner?
11. Sometimes A Great Notion
12. A Disquiet Follows My Soul
17. Someone to Watch Over Me
18. Islanded in a Stream of Stars
Additional information
Duration
21 episodes (15 h 34 min)