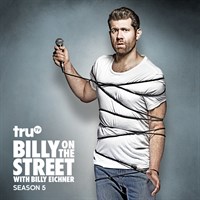 Description
This season, some of the biggest names in Hollywood join Billy as he runs through the streets of New York City. Aziz Ansari, Jon Hamm, Keegan-Michael Key, Lupita Nyong'o, John Oliver, Seth Rogen, Andy Samberg and Jacob Tremblay will make guest appearances this season and additional celebrities will be revealed throughout, so stay tuned!
Episodes
1. Immigrant or Real American? With Jon Hamm!
2. Death Rogen, with Special Guest Seth Rogen!
3. Lupita Nyong'o: Bring the Pain
4. Miracle on 34th Streep with Andy Samberg!
6. Billy's Holiday Wonderland with Jacob Tremblay!
7. Do Gay People Care About John Oliver? With John Oliver!
8. Curbside Conga Line with James Corden
9. Super Sloppy Semi-Automatic Double Dare! With Keegan-Michael Key
10. The NY Bubble with Stephen Colbert!
Extra: Season 5 Sneak Peek
Additional information
Duration
10 episodes (4 h 7 min)