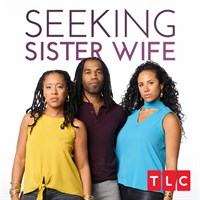 Available on
Xbox One
HoloLens
PC
Mobile device
Xbox 360
Description
Seeking Sister Wife documents the lives of three very unique families who are all in various phases of seeking, dating or transitioning a new sister wife into their lives.
Episodes
1. It's Time to Start Seeking Again!
4. Unforeseen Circumstances
7. Guess Who's Coming to Dinner?
8. Don't Go Breaking My Heart
9. It's Getting Steamy Up In Here!
10. One Wedding and a Funeral?
11. The Snowdens Say "We Do!"
Additional information
Duration
12 episodes (10 h 39 min)