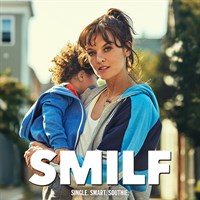 Description
Set in Boston, SMILF will take a raw and honest comedic look at a single, 20-something from Southie whose desires for relationships, sex, and a career collide with the realities of young, single motherhood.
Episodes
1. Sh*t Man, I've Literally Failed
2. Sorry Mary, I'm Losing Faith
3. Surrogate Mothers Inspire Loving Families
4. So Maybe I Look Feminine
5. Single Mom in Love Forever
6. Should Mothers Incur Loss Financially?
7. Smile More If Lying Fails
8. Sex Makes It Less Formal
9. Single Mom Is Losing Faith
10. Single Mom Is Looking (for) Family
Additional information
Duration
10 episodes (4 h 47 min)