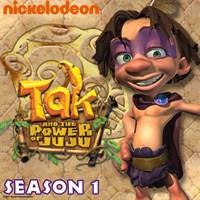 Available on
Xbox One
HoloLens
PC
Mobile device
Xbox 360
Description
Based on the video game created by Avalanche Software, Tak and The Power of Juju explores the crazy world of the mixed-up Pupununu people and their magic boy Tak, who somehow wound up as the sole link between his oafish tribe and the always weird, easily-annoyed and unpredictable magical Jujus.
Episodes
2. A Shaman's Shaman/The Gift
3. The Three Chiefs/ The Party
4. The Beast/To Zaria with Love
5. Zaria's in Charge / Bad Luck's Back
7. Big Boss Brawl/Our Favorite Juju
8. Love Hurts/Frien-e-mies
9. The Littlest Gratch/Lok, the Offender
11. Great Juju Impersonator/Boom! Bang! Boom!
12. Little Chief/Pugnacious No More
13. Tikis of War/Hairy Zaria
16. Nice Calves/Double Tak
17. Sheep Dip/Slog the Babysitter
18. Feathers/Sans Sherriff
19. Giant Chief / Shrink a Dink
21. Break This/Pack of Apes
22. New Pet/Tak's Monster
23. Beautiful Girls/Bad Medicine
25. Ball of Wax/Testing Jibolba
Additional information
Duration
25 episodes (10 h 11 min)