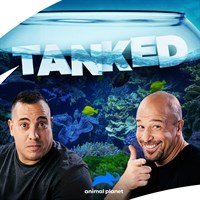 Available on
Xbox One
HoloLens
PC
Mobile device
Xbox 360
Description
Tanked follows the largest aquarium manufacturing company in the US, run by Wayde King & Brett Raymer. Watch them create the most outrageous tanks for some of the most striking fish and clients. Dive deep into this family business as it reveals the stress, success, and sometimes dysfunction that come with designing a one of a kind tank.
Episodes
1. The Wonderful Dr. Oz Tank
2. Wildfire Rescue Tribute Tank
3. Demarcus Cousins and a Snake Tank
4. Urijah Faber's Ultimate Fish Tank
6. Clay Matthews' Green Bay Eel Tank
7. Healing Garden Waterfall
8. A Merry Fishy Christmas
9. Tracy Morgan's Giant Shark Tank Under Construction
10. Tracy Morgan's Giant Shark Tank Revealed!
Additional information
Genres
Family/Children
Reality TV
Duration
10 episodes (6 h 57 min)