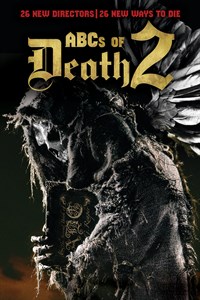 Bundles containing this item
Available on
Xbox One
HoloLens
PC
Mobile device
Xbox 360
Description
ABCs OF DEATH 2 is the follow-up to the most ambitious anthology film ever conceived. It features segments directed by over two dozen of the world's leading talents in contemporary genre film. The motion picture is comprised of twenty-six individual chapters, each helmed by a different director assigned a letter of the alphabet. Provocative, shocking, and at times funny, ABCs OF DEATH 2 is another global celebration of next generation genre filmmaking.
Additional information
Directors
Robert Morgan
Jim Hosking
Chris Nash
Julian Barratt
Bill Plympton
Larry Fessenden
Vincenzo Natali
Jen Soska
Sylvia Soska
Todd Rohal
Rodney Ascher
Julian Gilbey
Marvin Kren
Alejandro Brugués
Aharon Keshales
Navot Papushado
Steven Kostanski
Erik Matti
Juan Martinez Moreno
E.L. Katz
Jerome Sable
Alexandre Bustillo
Julien Maury
Dennison Ramalho
Hajime Ohata
Kristina Buozyte
Bruno Samper
Lancelot Oduwa Imasuen D.G.N.
Robert Boocheck
Soichi Umezawa
Genres
Foreign/Independent
Horror
Writers
Jim Hosking
Jen Soska
Sylvia Soska
David Chirchirillo
Julian Gilbey
Alejandro Brugués
Álex de la Iglesia
Juan Martinez Moreno
Jerome Sable
Robert Boocheck
Ant Timpson
Toby Harvard
Nicholas Musurca
Marc Walkow
Size
7.26 GB (1080p HD)
3.43 GB (720p HD)
2.58 GB (SD)