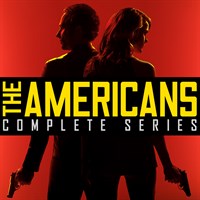 Description
FX original drama The Americans stars Keri Russell and Matthew Rhys as undercover Soviet spies in the U.S. during the Cold War in the late '80s.
Episodes
8. Mutually Assured Destruction
35. Do Mail Robots Dream of Electric Sheep?
37. One Day in the Life of Anton Baklanov
42. Experimental Prototype City of Tomorrow
47. The Magic of David Copperfield V: The Statue of Liberty Disappears
51. A Roy Rogers in Franconia
56. What's the Matter with Kansas?
59. The Committee On Human Rights
64. The World Council of Churches
68. Urban Transport Planning
70. The Great Patriotic War
Additional information
Duration
75 episodes (2 days 10 h 57 min)