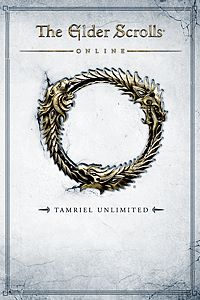 Description
The award-winning fantasy role-playing series, The Elder Scrolls, goes online – no game subscription required. Experience this multiplayer role-playing game on your own or together with your friends, guild mates, and thousands of alliance members. Explore dangerous caves and dungeons in Skyrim, or craft quality goods to sell in the city of Daggerfall. Embark upon adventurous quests across Tamriel and engage in massive player versus player battles, or spend your days at the nearest fishing hole or reading one of many books of lore. The choices are yours in the persistent world of The Elder Scrolls Online: Tamriel Unlimited. Version supports English, French, German.
Additional information
Published by
Bethesda Softworks
Copyright
© 2015-2021 ZeniMax Media Inc. The Elder Scrolls® Online developed by ZeniMax Online Studios LLC, a ZeniMax Media company. All Rights Reserved.
Developed by
ZeniMax Online Studios
Age rating
For ages 17 and up
Installation
Install on your home Xbox One console plus have access when you're connected to your Microsoft account.
Language supported
English (United States)
Français (France)
Deutsch (Deutschland)
Русский (Россия)
Additional terms
Play The Elder Scrolls Online: Tamriel Unlimited free for a limited time privacy policy
Terms of transaction
Play The Elder Scrolls Online: Tamriel Unlimited free for a limited time license terms
PERSISTENT INTERNET CONNECTION REQUIRED. Acceptance of End User License Agreement, Terms of Service, and Privacy Policy, and account registration required to play. The Elder Scrolls Online service may be discontinued, and content modified, disabled, suspended or removed, at any time. Product requires installation of application software. See Terms of Service, Privacy Policy and additional details at store.elderscrollsonline.com.
Report this product
Sign in to report this game to Microsoft