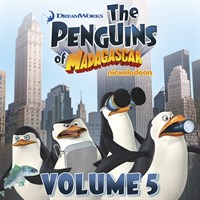 Available on
Xbox One
HoloLens
PC
Mobile device
Xbox 360
Description
The Penguins of Madagascar—Skipper, Kowalski, Rico and Private—are an elite (and adorable) strike force with top-tier commando skills headquartered at New York's Central Park Zoo.
Episodes
1. A Kipper for Skipper/High Moltage
2. Nuts to You/The Terror of Madagascar
3. Nighty Night Ninja/Seige the Day
4. The Most Dangerous Game Night/Street Smarts
5. Best Laid Plaintains/P.E.L.T.
6. Marble Jar Head/Good Night and Good Chuck
Additional information
Age rating
Genres
Animation
Family/Children
Duration
6 episodes (2 h 23 min)