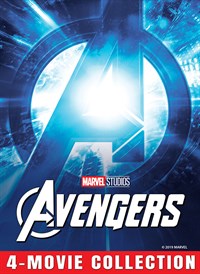 Original price was $79.96, current price $49.99
Original price was $79.96, current price $49.99
Description
From Marvel Studios—witness the epic journey of earth's mightiest heroes, from their first battle to the thrilling climax of 22 interconnected films. In Marvel's The Avengers, an impending assault from an unexpected enemy causes Nick Fury to assemble a Super Hero team unlike any other to protect the world from catastrophe. Next, the Avengers take on the robotic menace, Ultron, in Avengers: Age of Ultron. Then, the Avengers must be willing to lose everything in the ultimate struggle for the fate of the universe in Avengers: Infinity War. And finally, the Avengers will understand just how fragile our reality is—and the sacrifices that must be made to uphold it—in a story of friendship, teamwork and setting aside differences to overcome an impossible obstacle in Avengers: Endgame.
Bonus content
The Avengers: Age of Ultron - Bonus Content
Play Movie With Commentary
Marvel Studios: The Directors Roundtable
Beyond The Battle: Wakanda
Deleted Scene – Happy Knows Best
Deleted Scene – Hunt For The Mind Stone
Deleted Scene – The Guardians Get Their Groove Back
Deleted Scene – A Father's Choice
Play Movie With Commentary
Setting the Tone: Casting Robert Downey Jr.
A Man Out of Time: Creating Captain America
Black Widow: Whatever It Takes
The Russo Brothers: Journey To Endgame
Steve and Peggy: One Last Dance