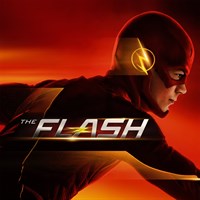 Description
THE FLASH is a fast-paced super hero drama that follows the high-speed adventures of Central City Police scientist Barry Allen, an everyday guy with the heart of a hero and the genuine desire to help others. When an unexpected accident at the S.T.A.R. Labs Particle Accelerator facility strikes Barry, he finds himself suddenly charged with the incredible power to move at super speeds. While Barry has always been a hero in his soul, his newfound powers have finally given him the ability to act like one. With the help of the research team at S.T.A.R. Labs, Barry begins testing the limits of his evolving powers and using them to stop crime. With a winning personality and a smile on his face, Barry Allen — aka The Flash — is finally moving forward in life … very, very fast!
Episodes
1. City of Heroes (Pilot)
3. Things You Can't Outrun
9. The Man in the Yellow Suit
10. Revenge of the Rogues
11. The Sound and the Fury
19. Who Is Harrison Wells?
Extra: The Flash at Comic-Con
Extra: The Flash: Trailer
Extra: Highlights of Season 1 – The Flash – Trailer
Additional information
Genres
Action/Adventure
Drama
Sci-Fi/Fantasy
Duration
23 episodes (16 h 19 min)