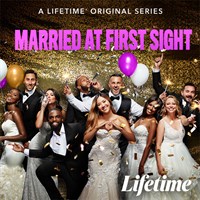 Description
"Married at First Sight" is an extreme social experiment following six brave souls who are yearning for a life-long partnership as they agree to a provocative proposal: getting legally married the moment they first meet.
Episodes
3. The Weddings are Coming! The Weddings Are Coming!
4. Afterparty: Wild Brides
5. Nice Day For a Wicked Wedding
6. Afterparty: What, No Cheers?
7. Bean Town Wedding Throw Down
8. Afterparty: I'm What You Call a Massh*le
9. Bliss, Brunches and Brawls...Oh My!
10. Afterparty: Wedding Nights, Brunches and Bus Fights
11. It's Not a Shore Thing
12. Afterparty: Sex Education Class
13. Dark Side of the Honeymoon
14. Afterparty: Thrupple in Paradise
15. This is My Decision Day
16. Afterparty: Moving Up and Out
18. Afterparty: Send Noods
19. Is Love on the Table?
20. Afterparty: Breakthroughs and Breakdowns
21. Mighty Mighty Boston Bonds
22. Afterparty: Whips, Claws and Choreplay
23. Worst. Dinner Party. Ever!
24. Afterparty: Work in Progress
25. The Journey So Far: Boston
26. Settling In, or Just Settling?
27. Afterparty: Come Back and Bite You
28. Popping the Questions
29. Afterparty: Help Me Love You
31. Afterparty: It All Started in Fun
32. Past Lives, Open Minds
33. Afterparty: Let Me Love You
34. Are You In, or Are You Out?
35. Decision Day Dish: Boston
37. Boston Reunion, Part 1
38. Boston Reunion, Part 2
Additional information
Duration
38 episodes (1 day 12 h 37 min)