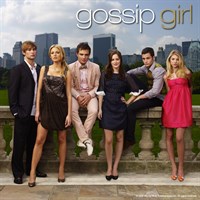 Description
Welcome to Manhattan's Upper East Side, where affluent prep-school students live for gossip and scandal … and fashion, shopping and partying in New York's trendiest hotspots. Based on the best-selling series of young-adult novels, this drama is told through the all-knowing eyes of a blogger, Gossip Girl. The tension between friends and lovers is high, and age is no barrier in this world full of wealth and power. Executive produced by Josh Schwartz (Chuck, The O.C.) and Stephanie Savage (The O.C.), and starring an impressive ensemble of young stars, season two continues with Serena van der Woodsen's (Blake Lively) rising social status, as she becomes a New York City It Girl. Taking Manhattan by storm is fun, but when elements of her bad-girl personality begin to emerge, will her newfound status fuel bad habits? Also starring are Leighton Meester, Penn Badgley, Chace Crawford, Taylor Momsen, Ed Westwick, Jessica Szohr, Kelly Rutherford and Matthew Settle.
Episodes
1. Summer, Kind of Wonderful
10. Bonfire of the Vanity
11. The Magnificent Archibalds
13. O Brother, Where Bart Thou?
14. In the Realm of the Basses
18. The Age of Dissonance
22. Southern Gentlemen Prefer Blondes
25. The Goodbye Gossip Girl
Additional information
Duration
25 episodes (17 h 45 min)