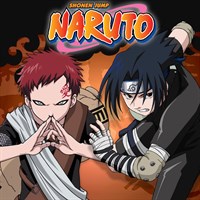 Available on
Xbox One
HoloLens
PC
Mobile device
Xbox 360
Description
With the Final Round of the Chunin Exam only a month away, Naruto receives some special training from Jiraiya, one of the three legendary Sannin, to summon and master the Chakra of the Nine-Tailed Fox Spirit within him. Can Naruto turn this dangerous force into a strength and overcome the odds, against formidable Neji?! Meanwhile, a dark plan that affects the fate of the Hidden Leaf Village begins to reveal itself as the much-anticipated match between Sasuke and Gaara draws near!
Episodes
1. Long Time No See: Jiraiya Returns!
2. The Summoning Jutsu: Wisdom of the Toad Sage!
3. A Feeling of Yearning, a Flower Full of Hope
4. Live or Die: Risk it All to Win it All!
5. He Flies! He Jumps! He Lurks! Chief Toad Appears!
6. Hospital Besieged: The Evil Hand Revealed!
7. The Final Rounds: Rush to the Battle Arena!
8. Byakugan vs. Shadow Clone Jutsu!
9. Ultimate Defense: Zero Blind Spot!
10. A Failure's True Power
11. Hit It or Quit It: The Final Rounds Get Complicated!
12. Zero Motivation: The Guy with Cloud Envy!
13. Dancing Leaf, Squirming Sand
14. Bushy Brow's Jutsu: Sasuke Style!
15. Late for the Show, But Ready to Go! The Ultimate Secret Technique is Born!
16. Zero Hour! The Destuction of the Hidden Leaf Village Begins!
17. Village in Distress: A New A-Ranked Mission!
18. A Shirker's Call to Action: Layabout No More!
19. An Unrivaled Match: Hokage Battle Royale!
20. A Mistake from the Past: A Face Revealed!
21. Forbidden Secret Technique: Reaper Death Seal!
22. Astonishing Truth! Gaara's Identity Emerges!
23. Sasuke's Decision: Pushed to the Edge!
24. Assassin of the Moonlit Night
25. Light vs. Dark: The Two Faces of Gaara
26. Naruto's Ninja Handbook
Additional information
Genres
Action/Adventure
Anime
Duration
26 episodes (10 h 12 min)