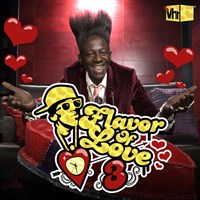 Description
Since the dawn of time women have been drawn to men of great charm… men who know how to treat a woman… men who are well versed in the international language of love. Now one man has come to stand as an example to would-be Romeos across the globe. That man is Flavor Flav! That's right, after 3 years, 41 women and two spin-offs, your man is back. The legend returns for one more shot to finally find that one thing that always seems to elude him… LOVE. And this time, he's going to find love or die trying. This season, your man has brought together a veritable cornucopia of beauty to the front doors of his mansion. Every challenge he poses, from nursing his broken heart on a hospital gurney, to composing a hip-hopera about Flav's life, will be engineered to make those girls who truly have love for Flav shine. In the end, Flav will pick the girl he believes is the one true love that he can finally settle down with. Hopefully this time it'll stick.
Episodes
5. Things That Go Bump on the Lip
6. The Lyin', the Witch, and the Wardrobe Malfunction
7. Dial "M" for Mystery Pimp Caller?
9. A Night at the Hip-Hopera
12. When Flavorettes Attack
13. It's a Family Flav-Fair
Additional information
Duration
17 episodes (12 h 17 min)