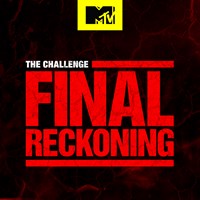 Description
The Challenge is a reality competition battle across a series of contests for the chance to win money. Contestants endure brutal challenges, devastating elimination rounds, steamy hookups and bitter rivalries.
Episodes
2. The Young and the Wreckless
6. A Series of Unfortunate Events
10. Redemption House Of Cards
13. The People vs. Johnny Bananas
14. Lavender is the New Black
18. It's Always Sunny in South Africa
20. Who Wants To Be A Millionaire?
21. Final Reckoning Reunion Part 1
22. Final Reckoning Reunion Part 2
101. The Challenge: Final ReckoningTrailer
102. Challenge: Final Reckoning Newbie
103. Challenge: Final Reckoning Trilogy
104. Challenge: Final Reckoning Social Game
105. Challenge: Final Reckoning Vendettas
106. Challenge: Final Reckoning Relationship
107. CT's Getting Married Part 1
108. CT's Getting Married Part 2
Additional information
Duration
30 episodes (16 h 59 min)