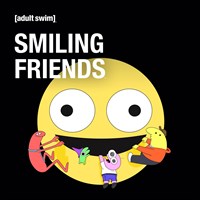 Description
Smiling Friends follows the employees of a small company dedicated to bringing happiness to a bizarre yet colorful world. The company consists of cynical Charlie and star employee Pim, each tasked with out-calls to cheer people up. There's also meticulous Allan who keeps things in order, mysterious Glep, and the unpredictable billionaire Boss who founded the company. The quarter-hour animated series is co-created by Michael Cusack (YOLO: Crystal Fantasy) and Zach Hadel (Hellbenders) and animated by Princess Bento Studio.
Episodes
4. A Silly Halloween Special
5. Who Violently Murdered Simon S. Salty?
8. Charlie Dies and Doesn't Come Back
9. The Smiling Friends Go To Brazil!
Additional information
Duration
9 episodes (1 h 41 min)