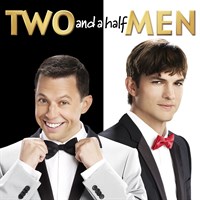 Description
Charlie Sheen and Jon Cryer star in this Emmy®-nominated comedy. Sheen plays a Malibu bachelor with an easy way with women. His casual lifestyle is interrupted when his uptight brother (Cryer) and his son stay with him. Despite the complexities of their lives, this unusual family unit promises to make each one of them a better man.
Episodes
1. The Ol' Mexican Spinach
4. Thirty-Eight, Sixty‐Two, Thirty-Eight
6. Alan Shot a Little Girl
7. Sex with an Animated Ed Asner
8. Family, Buble, Deep-Fried Turkey
9. Bouncy, Bouncy, Bouncy, Lindsay
11. For Whom the Booty Calls!
12. A Beer-Battered Rip‐Off
13. Boompa Loved His Hookers
14. Don't Give a Monkey a Gun
15. Of Course He's Dead - Part 1 & Part 2
Additional information
Duration
15 episodes (5 h 35 min)