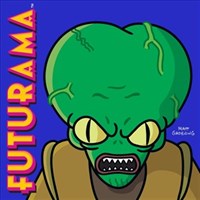 Description
Fry, a young Everyman, finds himself accidentally transported 1,000 years in the future. Just like right now, life in the future is a complex mix of the wonderful and horrible, where things are still laughable no matter how crazy they get. And against a backdrop of pesky aliens, exasperating robots and malfunctioning gadgets, people still struggle with the same daily anxieties of life and love... and, of course, traffic is still a nightmare! In the second season, Valentine's Day turns into a nightmare for Fry after his head is surgically attached to Amy's body; the crew discovers the lost city of Atlantis where Fry falls hopelessly in love with mermaid; powerful alien beings threaten to devour all of mankind after the crew inadvertently introduces earthlings to the aliens' offspring; and Al Gore, Stephen Hawking and Nichelle Nichols come to the rescue when Fry inadvertently opens a rip in the space-time continuum. Matt Groening (The Simpsons) is creator and executive producer of FUTURAMA.
Episodes
4. Fry and the Slurm Factory
6. Brannigan, Begin Again
9. Why Must I Be a Crustacean in Love?
10. Put Your Head on My Shoulder
11. The Lesser of Two Evils
13. A Bicyclops Built for Two
14. How Hermes Requisitioned his Groove Back
18. The Problem with Popplers
20. Anthology of Interest I
Additional information
Duration
20 episodes (7 h 30 min)