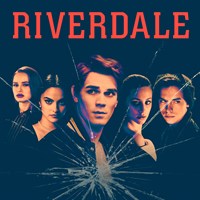 Description
It's senior year for Archie and the gang, which means football games, River Vixens, parties, a new principal, and the ever-dreaded college applications. But senior year also means bittersweet moments like the first last day of high school. In season four of RIVERDALE, Archie will honor his father's legacy while also developing a deeper connection with his mother; Betty will work to uncover more about her mother and sister; Veronica will go unsupervised while her parents spend time in jail; and Jughead will turn more to writing. Plus, Cheryl will find an unlikely business partner, Kevin will be involved in a questionable out-of-school project, and Reggie will address his past with Veronica.
Episodes
1. Chapter Fifty-Eight: "In Memoriam"
2. Chapter Fifty-Nine: "Fast Times at Riverdale High"
3. Chapter Sixty: "Dog Day Afternoon"
4. Chapter Sixty-One: "Halloween"
5. Chapter Sixty-Two: "Witness for the Prosecution"
6. Chapter Sixty-Three: "Hereditary"
7. Chapter Sixty-Four: "The Ice Storm"
8. Chapter Sixy-Five: "In Treatment"
9. Chapter Sixty-Six: "Tangerine"
10. Chapter Sixty-Seven: "Varsity Blues"
11. Chapter Sixty-Eight: "Quiz Show"
12. Chapter Sixty-Nine: "Men of Honor"
13. Chapter Seventy: "The Ides of March"
14. Chapter Seventy-One: "How to Get Away with Murder"
15. Chapter Seventy-Two: "To Die For"
16. Chapter Seventy-Three: "The Locked Room"
17. Chapter Seventy-Four: "Wicked Little Town"
18. Chapter Seventy-Five: "Lynchian"
19. Chapter Seventy-Six: "Killing Mr. Honey"
101. Riverdale: 2019 Comic-Con Panel
Additional information
Duration
20 episodes (13 h 50 min)